A fan club is a group of people who tell an actor he's not alone in the way he feels about himself - from Acid Drops
This website hasn't been updated for a decade or so, partly due to time constraints, and partly because the information contained within is relatively complete and the web has moved on since it was first started, so places like Wikipedia or the BBC Genome Project filled whatever was missing. Every now and then something worthy of mention will be added, and I'm pleased to say the first of these is:
The Kenneth Williams Companion.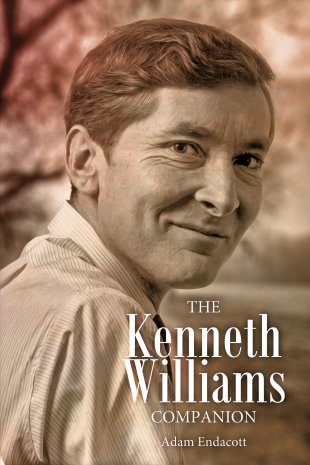 This is the first, and only, definitive book on the career of Kenneth Williams. The book details all his stage, radio, TV, recordings and film work as a chronology.
Written by Adam Endacott this 700 page volume brings together an in-depth and comprehensive guide to all his credits with fascinating facts, and memories from his contemporaries, many of whom haven't spoken before. This book is everything you ever needed to know about the career of one of Britain's greatest comedy actors, from a career spanning 40 years.
"Much has been written about the person that was Kenneth Williams, but a full and detailed appreciation of his body of work has been neglected and this book is here to rectify this and catalogue the career of a genius," writes Adam. "As my hero, I have been collecting and researching Kenneth's life for over 25 years and is a project that has been inspired as a work of passion and to ensure that his 40 year career is documented for existing and future generation of fans."
"I hope readers will discover that he wasn't just in the Carry On films and a turn on the chat show circuit – in fact he had an immense body of work across all the mediums, even though he would write in his diary that he didn't have much work! I think there will be some surprises in some of the projects that he was involved with and with contributions from a wealth of his friends and colleagues, some who have never spoken before, with new and never told before anecdotes and stories."
The book and it can be preordered via the publisher, Fantom Books.
The accompanying website for the book can be found here.